How to set the anti-recoil assist firing in new APP
How to set the anti-recoil assist firing in new APP
For general game player who can use "Manual pressure gun"
We have preset 4 values:
Value of 1 is for red hot etc.,
value of 2 is for 3-6 scope,
value of 3 is for uzi, pp-19, the back thrust of guns are weak.
Value of 4 is for AK, 7.62 bullet,
value of 5 is reserved.
At the same time, we recommend the value of the ADS sensitivity in the game setting. You can set the value according to your habits.
Red Dot – 44%
3-6 scope – 20%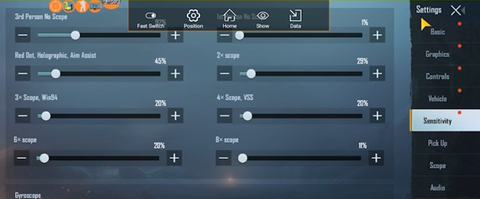 You can select the pose to link the shortcut.
The value of pressure gun will automatically adjust according to your pose. You will find the icon of pose will change different picture.

Tips:
You need press F1 to turn on the pressure gun when you open the game every time.
The color of the bottom of the icon will become yellow if the pressure gun is active.

You need to press F2-F5 key on the keyboard to associate the value which you want to. The number of the second icon will change 1-4, that means 1= value of 1, 2= value of 2, 3= value of 3, 4= value of 4. At the same time, the color of first icon will become yellow after pressing F2-F5.
the pressure gun will not work if the color of first icon is white.